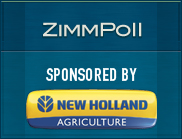 Our latest ZimmPoll asked the question, "What do you think about new US Ag Coalition for Cuba?"
There is no doubt the ag community is behind the U.S. Agriculture Coalition for Cuba and it's goals of re-establishing trade. As time goes by it will be interesting to see how it will open up the market in U.S. food and ag exports.
Here are the poll results:
Will benefit all aspects of agriculture – 84%
Bad idea – 0%
Undecided – 5%
Haven't heard about it – 11%
Our new ZimmPoll is now live and asks the question, Is China's recent ban on imports of U.S. poultry & eggs justified?
Effective January 8, the Chinese government imposed a nationwide restriction on U.S. imported poultry and eggs following the detection of avian flu in wild birds in the Pacific Northwest. Do you think that China is right on track and it's better to be safe than sorry or is it completely overkill with no justification for the drastic action.