Innovation and technology will be in the spotlight at the American Farm Bureau Federation's 96th annual convention, which begins this weekend in San Diego. Cindy will be there to handle all of the coverage next week, and she talked with AFBF's Dan Durheim to get a preview of what's new this year.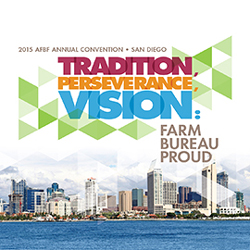 What is brand new is the IDEAg Innovate Conference and Trade Show that will feature topics such as managing agricultural big data, the use of drones for farming purposes, precision agriculture and Internet strategies for farmers and ranchers. The IDEAg conference will be held from 8:00 to 10:30 am on Saturday, the trade show will be open from 9 am to 4 pm on Saturday and 10:30 am to 3:30 pm on Sunday.
The convention kicks off with the opening general session on Sunday morning, when AFBF President Bob Stallman will share Farm Bureau's direction for 2015. At the general session on Monday morning, Commander Rorke Denver will provide insights on teamwork and courage when faced with pressure-filled situations, and comedian Jay Leno will leave attendees laughing at the closing general session.
Find out more here: [wpaudio url="http://www.zimmcomm.biz/podcast/hickchickchat-15-ideag.mp3″ text="Hick Chick Chat with Dan Durheim, AFBF"]