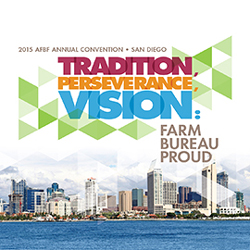 Innovation and technology will be in the spotlight at the American Farm Bureau Federation's 96th annual convention, which begins this weekend in San Diego.
Brand new this year is the IDEAg Innovate Conference and Trade Show that will feature topics such as managing agricultural big data, the use of drones for farming purposes, precision agriculture and Internet strategies for farmers and ranchers. The IDEAg conference will be held from 8:00 to 10:30 am on Saturday, the trade show will be open from 9 am to 4 pm on Saturday and 10:30 am to 3:30 pm on Sunday.
AFBF's Dan Durheim says a survey of Farm Bureau members guided the planning for convention this year. "And what they told us is 'give us more opportunity to engage with the commercial people.'" said Durheim. "It's really finding that sweet spot behind what we do really well, which is policy work and advocacy, as well as making our trade show more robust."
The events and exhibits on Saturday and Sunday will be open to all farmers, ranchers and agricultural professionals, not just Farm Bureau members. There is no fee for Farm Bureau members to attend but they are encouraged to register online at annualconvention.fb.org. Non-members may attend the IDEAg conference by paying $75, in addition to $10 to attend the trade show, by registering online at annualconvention.fb.org.
The convention itself begins on Sunday and includes two dozen workshops covering a variety of topics and issues. Topics include how to become a more effective advocate for agriculture, big data, the latest technology trends, updates on economic issues affecting today's farmers, and skills and ideas leaders can take home and apply at their county and state Farm Bureaus.
Learn more at annualconvention.fb.org.