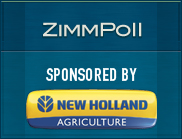 Our latest ZimmPoll asked the question, "What type of gadget is on your wish or to-give list?"
Did you find your favorite gadget under the tree this year? Our results were pretty evenly spread out. I was excited to see many were wanting to utilize drone technology. But the GoPro video camera exceeded all other gadgets. I think that might be what I buy with my Christmas money.
Here are the poll results:
Smart Phone – 12%
Tablet – 9%
Hybrid Laptop – 0%
Wearable Tech – 9%
Mobile Power Supply – 5%
Cordless Power Tools – 9%
Drone – 12%
Camera – 9%
GoPro Video Camera – 26%
Bluetooth Speakers/headphones – 3%
Other – 6%
Our new ZimmPoll is now live and asks the question, What do you think were the biggest ag stories of 2014?
No matter the segment of agriculture you are involved in, their has been at least one ag story throughout the year that has caught your attention. Let us know which topped your list as the biggest ag story of the year. As we review stories from 2014 I can't help but wonder what 2015 will bring.