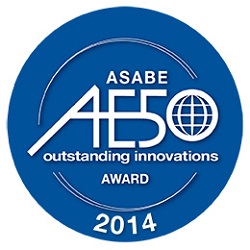 Our friends at New Holland are being honored for their engineering innovation. This company news release says New Holland won fourprestigious AE50 Awards for smart engineering innovations by the American Society of Agricultural and Biological Engineers (ASABE).
"We're proud to receive these awards recognizing industry-leading advances in technology," says Abe Hughes, New Holland's Vice President of North America. "In 2015, New Holland will be celebrating our 120th year as an innovator, and these AE50 awards affirm our continued commitment to providing the smart, cutting-edge technology growers need to increase their efficiency and profitability."
The New Holland award winners include:
QuickMax™ disc cutterbar quick-change knife system
41-foot 760CG Varifeed™ grain header
Integration of LIN remote-control actuators on New Holland CR combines
Triple-Clean™ cleaning shoe technology for CX5000 and CX6000 Elevation combines
You can read more about each of the four winners here.
The AE50 awards are presented for the fifty most innovative product ideas to enter the market in 2014, honoring new product ideas that are ranked highest in innovation, significant engineering advancement, and impact on the market served.