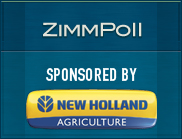 Our latest ZimmPoll asked the question, "What's the biggest challenge for the seed industry?"
All of agriculture depends in some way on seed. The long term survival of the seed industry impacts everything. It looks like you think anti-GMO attitudes have the greatest negative impact on the seed industry. Environmental regulations came in with a close second.
Here are the poll results:
Intellectual property rights – 4%
Anti-GMO attitudes – 33%
Trade restraints – 11%
Environmental regulations – 19%
Innovation progress disruption – 4%
Pollinator health issues – 11%
All of the above – 11%
Other – 7%
Our new ZimmPoll is now live and asks the question, What type of gadget is on your wish or to-give list?
Christmas is right around the corner and gadgets are one of our favorite things to talk about. We want to know what gadget you want to find under the tree this year or what type of techie gift you're giving. Is it a smart phone, computer, power tool, camera or one of each? I wouldn't mind seeing a camera under my tree!