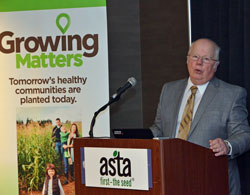 The agriculture industry is working to show the benefits of neonicotinoids in the face of an EPA report released in October concluding that the seed treatments "provide little or no overall benefits to soybean production in most situations."
During the ASTA CSS and Seed Expo last week, Dr. Pete Nowak with AgInfomatics discussed some of his findings on the value of neonics in North American agriculture to respond to the EPA findings. "A good $4 billion plus, direct costs to our economy if we lose neonicotinoids," says Dr. Nowak summarizing the cost to all agricultural and green industry crops. "A very significant impact, not only on the producer, but also on the consumer in terms of food costs, as much of the four billion dollars would be passed on to the consumer." [wpaudio url="http://www.zimmcomm.biz/asta/asta-css-14-nowak.mp3″ text="Dr. Pete Nowak, AgInfomatics"]
AgInfomatics has compiled a number of research papers on the value of neonics to several different industries, with the latest one just released this week which found the seed-based insecticide significantly increases yields of major crops.
The research used a meta-analysis approach to assemble existing data from more than 1,500 field studies conducted over 15 years in the following crops: corn, soybean, wheat, cotton, sorghum, canola, potato and tomato. According to the researchers, farmers experienced average yield increases ranging from 3.6 to 71.3 percent in the eight major crops across North America.
The research has been commissioned by Growing Matters, which is a group formed by a collaboration between Bayer CropScience, Syngenta, Valent and Mitsui, to help let the industry know what is happening on the federal level. The public comment period on the EPA analysis is open until December 22 and information on how to comment can be found by going to Growing Matters or AgVoice4Choice.com.