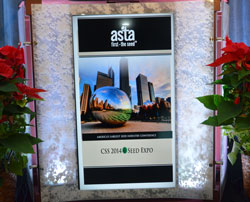 The American Seed Trade Association CSS 2014 and Seed Expo kicked off Tuesday in Chicago and possibly may be a record crowd this year.
"We have a great participation this year," said ASTA president and CEO Andy LaVigne. "Beginning of this week, we had over 2700 registrants and that's almost 100 more than we finished with last year and we do get a lot of walk-ins." ASTA also has a new media room this year, sponsored by BASF, and a number of agricultural media are attending the event for the first time.
LaVigne says key issues this year include intellectual property, seed treatments and pollinators, as well as what is happening in the corn, sorghum, and soybean industries – the core commodities which CSS represents.
In this interview, Andy talks about some of the other issues ASTA will be following in the new year. [wpaudio url="http://www.zimmcomm.biz/asta/asta-css-14-andy.mp3″ text="Interview with Andy LaVigne, ASTA CEO"]