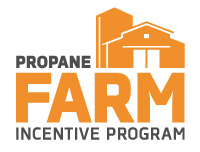 Now is the time to take advantages of year-end tax deductions by upgrading your on-farm propane equipment.
The Propane Education & Research Council (PERC) has three incentive programs where farmers can get up to $10,000 toward the purchase of new propane equipment for the farm and home.
The Propane Farm Incentive Program offers up to $5,000 on eligible propane irrigation engines, grain dryers, ag heaters, generators, and more.
The Propane Mower Incentive Program, now extended through March 31, 2015, is offering double incentive dollars, up to $2,000, toward the purchase of a new propane-powered mower, and up to $1,000 toward a qualified conversion.
The Propane Heat & Power Incentive Program offers financial incentives of up to $10,000 for eligible propane-powered products, such as standby generators and combined heat and power (CHP) systems.
"Post-harvest is the perfect time to consider equipment upgrades for cutting input costs and increasing profits — and that's where new fuel-efficient propane technology comes in," said Cinch Munson, PERC's director of agriculture business development. "PERC incentives reduce costs for new equipment, so farmers will see a return on their investments in a shorter amount of time and be set for a productive and cost-efficient 2015."
PERC recently released a suite of cost calculator tools to help producers estimate fuel savings and ROI for propane irrigation engines, work trucks, and commercial mowers in comparison with their running on conventional fuels like diesel and gasoline. The calculators are available for use online, as a desktop tool, and as mobile applications for phones and tablets available in app stores for iOS and Android devices.