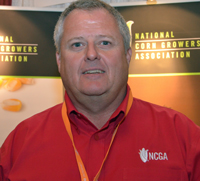 Biotechnology and GMO labeling, Waters of the U.S., and soil health were just a few of the issues on the mind of National Corn Growers Association president Chip Bowling at the National Association of Farm Broadcasting convention last week.
Bowling says corn growers are very concerned about the growing number of initiatives nationwide called for labeling of GMO products, and passage of a temporary ban on biotech crop production in Maui where many agribusiness companies do research on new traits. "The issue in Hawaii is critical," he said. "We Hawaii is a place we can grow crops all year long and the companies that test their traits out there needs to have the accessibility to those areas." Monsanto and Dow AgroSciences have filed suit over the ban, which was passed by a slim margin, and a judge has blocked its implementation.
One of the most important issues facing farmers right now, in Bowling's opinion, is the proposed Waters of the U.S. rule. "It's not going to go away," he said. "We need them to withdraw the interpretive rule and clarify what they mean to regulate and we need to make sure that it's not overreaching." Bowling recently had officials from EPA out to his farm in Maryland to take a look at ditches and ponds and get their opinions on how they would interpret the rule.
Bowling is pleased with NCGA's participation in the Soil Health Partnership (SHP). "We understand that we need to be good stewards of the land," said Bowling. "It's all about doing the right thing at the right time and we want to make sure that the farmers that we represent have all the information that they can get."
Bowling talks about a variety of other issues in this interview: [wpaudio url="http://www.zimmcomm.biz/nafb/nafb14-ncga-chip.MP3″ text="Interview with Chip Bowling, NCGA president"]