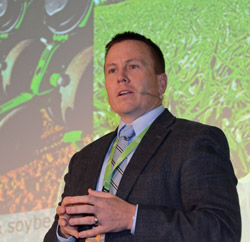 During last week's Bayer CropScience Corn and Soybean Future Forum, Than Hartsock, John Deere, did some digital storytelling. In fact, his presentation was titled, "Digitalization – next level of corn and soybean cropping."
Than talked about how John Deere is developing new tools to deal with ways for farmers to make more money from their crop. This includes all the things we lump under the category of precision agriculture. He used a lot of agnerd language like open data transfer. He says most of the large equipment the company ships now, like combines, come with wifi included. They are leveraging consumer hardware like smartphones and tablets that are making technology adoption easier. Speaking of easier, during his question and answer period one of the questions dealt with how easy this technology is for older farmers to adopt.
By the way, I'm leaving tomorrow for Kansas City and the 2014 Develop with Deere conference and will be sharing more specifics about new John Deere solutions from there!
Listen to Than's remarks here: [wpaudio url="http://www.zimmcomm.biz/bayer/bayer-future-14-hartsock.mp3″ text="Than Hartsock Presentation"]