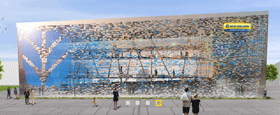 New Holland has unveiled a video series called "The Seeds of Life Series." Below is the trailer for the series. This is part of the overall involvement New Holland has with Expo Milano 2015 where the company is building a "Sustainable Farm Pavilion." The video series is a storytelling project for the Heroes who feed us all.

Farmers feed the planet. The seeds they plant today will be the food we eat tomorrow. The Seeds of Life Series will tell the stories of these Heroes, showing how their work and lives intertwine despite the distance. Follow eight real Farmers from eight different countries as they face the force of nature, the tireless planning and the unforgiving hours that being a farmer requires. See how they face whatever comes their way. The Series will show how the same challenge is faced by Farmers living in countries very far from each other.


Follow what New Holland is doing in preparation for Expo Milano 2015 here. You are encouraged to use the hashtag #ThanksToHeroes to tweet your thanks.