The U.S Department of Agriculture (USDA) wants to move some new products into a preferred procurement initiative for federal agencies. USDA is using the 2014 Farm Bill to justify making available some new, biobased forest products in the BioPreferred® program, along with some other traditional biobased products and other mature market products, which have been produced in innovative ways.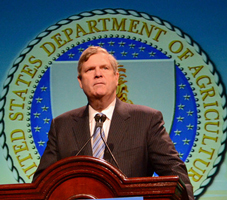 "Today, small businesses and global companies alike have harnessed the power of America's farms and forests to create new and innovative biobased products that are used all around the world," said [Ag Secretary Tom] Vilsack. "The expanding bioeconomy means more than just additional consumer choices, it also means new jobs."
The proposed action responds to new requirements in the 2014 Farm Bill for USDA to promote biobased products, including forest products, that apply an innovative approach to growing, harvesting, sourcing, procuring, processing, manufacturing, or application of biobased products regardless of the date of entry into the marketplace. The proposed rules provide the framework for implementing the new requirements, and will replace previous regulatory provisions excluding mature market products. The action further revises the definition of "biobased product" to state that the term includes forest products that meet biobased content requirements, notwithstanding the market share the product holds, the age of the product, or whether the market for the product is new or emerging.
USDA will look for public comment for 60 days on the proposed rules published in the Federal Register.