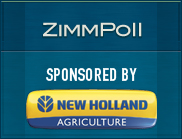 Our latest ZimmPoll asked the question, "What should US do about WTO COOL ruling?"
The industry has reacted to the World Trade Organization (WTO) decision against the United States on the Country of Origin Labeling (COOL) law since the announcement was made earlier this week. Some feel the issue can be handled by USDA, others feel Congress should take charge. But it looks like an overwhelming majority of those who took our poll feel we should appeal and do nothing.
Here are the poll results:
Appeal and do nothing – 83%
Congress should change – 4%
USDA should amend again – 3%
Should be repealed – 6%
Don't know – 4%
Our new ZimmPoll is now live and asks the question, Where are the best future jobs in ag?
This week thousands of FFA members from across the country have flooded the streets of Louisville, KY for the 87th National FFA Convention & Expo. The future of agriculture is in the hands of these young people who are passionate about the agriculture community. The number and variety of careers in agriculture continues to grow. This week we want to know what field of study are the best future jobs in agriculture.