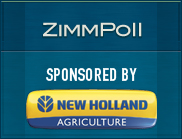 Our latest ZimmPoll asked the question, "Has the uncertainty for the RFS caused by the EPA hurt your community?"
No doubt the uncertainty for the Renewable Fuel Standard (RFS) caused by the EPA has hurt many of our communities. This unpredictability has been around over a year and has left many wondering what the final renewable fuel volumes will be. I am sure the uncertainty has impacted our lives more then many even are aware.
Here are the poll results:
Yes, lost local business/jobs – 73%
No, no impact – 27%
Don't know – 0%
Our new ZimmPoll is now live and asks the question, What should US do about WTO COOL ruling?
The industry has reacted to the World Trade Organization (WTO) decision against the United States on the Country of Origin Labeling (COOL) law since the announcement was made earlier this week. Some feel the issue can be handled by USDA, others feel Congress should take charge. Or are there are other options?