Florida is the third largest state in terms of population and the 14th in agricultural production, so competition for water resources is fierce in the Sunshine State.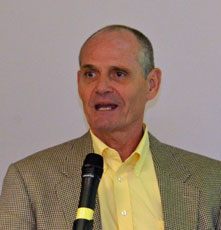 "Population growth is a big factor in driving water use demand and that will continue in Florida," said Richard Budell, who is director of water policy for the Florida Department of Agriculture and Consumer Services (FDACS). "The challenge we'll face is that as those domestic demands grow we don't lose sight of the fact that agriculture has to continue to have access to adequate quantities of water."
Budell told the 2014 CTIC Conservation in Action tour last week that Florida's 47,000 private farms account for 52% of the state's land use but less than half of the water use. Some of the state's most populous regions, such as Miami-Dade, Palm Beach and the counties around Tampa and Orlando, are also the most agriculturally productive. "Where that nexus occurs, it makes managing that water balance that much more difficult," he said.
During his presentation during lunch, Budell provided lots of interesting information about Florida agricultural production and natural resources. [wpaudio url="http://www.zimmcomm.biz/ctic/ctic-14-budell-talk.mp3″ text="Presentation by FDACS water policy director Rich Budell on CTIC tour"]
I also interviewed Rich about some of his key points and also questioned him about how the state ag department views the proposed Waters of the United States rule: [wpaudio url="http://www.zimmcomm.biz/ctic/ctic-14-budell-interview.mp3″ text="Interview with Rich Budell, Florida Department of Agriculture"]