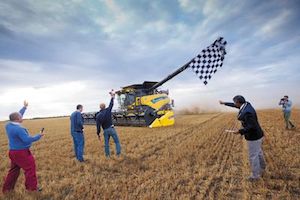 New Holland Agriculture has reclaimed the GUINNESS WORLD RECORDS title, harvesting an impressive 797.656 tonnes (29,308.84 bushels) of wheat in eight hours with the world's most powerful combine: the 653 hp CR10.90 Elevation.
"We are extremely proud to have recaptured the Guinness World Records title for harvesting almost 30,000 bushels of wheat in eight hours, shattering the previous record by more than 4,409 bushels," stated Hedley Cooper, Head of Harvesting Product Management. "This record demonstrates the unsurpassed capacity and productivity of the CR10.90 Elevation, especially as the current record of 24,832.87 bushels was broken after just six hours and 36 minutes!"
The record was set on August 15, 2014 at H.R. Bourn and Sons Farm in Grange de Lings, near Wragby, Lincolnshire, United Kingdom. The field was sown with Santiago wheat in the autumn of 2013 before it was chosen in May 2014 for the record-breaking attempt, which meant that it represented real-world growing conditions.
The record-breaking day's harvesting, which started at 11:17 a.m., was characterized by changing weather conditions, with the ambient temperature ranging from 64-70°F and light showers occurring from 5:30 p.m. onwards. The CR10.90's average throughput was 3,663 bushels/hour and peaked at 4,960 bushels/hour in a crop yielding an average of 148.1 bushels/acre and an average moisture content of 16.2%. The record was achieved using a mere 124.6 bushels/gallon of grain harvested with the straw chopper engaged throughout the day.
The entire day's activities were overseen and verified by Mr. Pravin Patel, the official GUINNESS WORLD RECORDS Record Adjudicator, who was assisted by Alan Robson, Chaplain for Agriculture of Lincolnshire as the second independent witness.
The record-breaking CR10.90 Elevation is equipped with New Holland's unique Twin Rotor® technology featuring Twin Pitch High Performance rotors combined with the Dynamic Feed Roll™ system (DFR), which proved indispensable in breaking the record especially as the weather conditions deteriorated in the late afternoon.
Powered by the award-winning Cursor 16 engine, which develops some 653 hp, the CR10.90 Elevation is also compliant with the Tier 4B emissions regulations, using advanced ECOBlue™ HI-eSCR technology to meet them. Traction, in the changeable conditions, was guaranteed thanks to the unique SmartTrax™ rubber track system with Terraglide™ suspension.
The extra-long 34-foot unloading auger and super-fast 4 bushels/minute unloading speed made quick work of the constantly filling grain tank. The CR10.90 was also equipped with IntelliSteer™ fully integrated auto-guidance, which ensures accuracy of 0.4-0.8-inches optimizing the effectiveness of the 45-foot 840CD draper header during every pass, the whole day long.