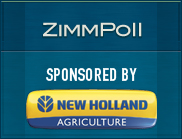 Our latest ZimmPoll asked the question, "What is your favorite type of cheese?"
It is obvious we all have different tastes when it comes to cheese. It is such a staple in many meals nationwide and there are an endless amount of varieties. Cheddar seems to rise to the top slightly. However, like myself, many like them all.
Here are the poll results:
A simple American – 5%
Any type of Cheddar – 24%
Something soft, like Gouda – 19%
Artisan all the way – 19%
I like them all – 19%
Other – 14%
Our new ZimmPoll is now live and asks the question, Are you ready for MyFarmRadio on your mobile device?
On November 3rd the new platform MyFarmRadio will launch. The 24/7 digital mobile radio channel will focus on a mix of best-in-class news, weather and markets along with entertaining and informative conversation for America's farmers and ranchers. The app will allow listeners to pick and choose what they want to hear – and when they want to hear it. What do you think about this new way to get farm news? Will you be one of the first to check it out? Learn more about it in our latest ZimmCast.