I recently had the opportunity to learn about Verdesian's philosophy of how they take technologies and customize them to agriculture. I should take a step back and mention that Verdesian has a strong relationship with Los Alamos National Laboratory (LANL) in the process of taking their defense research and "spinning it off" for agricultural applications.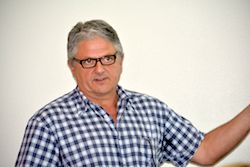 As Nigel Grech, executive vice president of Science & Technology, explains science is critical to their company and for agriculture but many journalists and growers alike aren't familiar with the science. This is a barrier, he said, because when you understand the basic science of a technology, then you understand the benefits of the technology.
So how does this LANL-Verdesian partnership work? Grech said there are four keys to successfully going from the lab to the farmer's field:
Understanding the technology
Construction of intellectual property
Integration into what farms do
Education
"We need to make sure we have early access so we can structure the language properly. Oftentimes researchers don't understand applications on the farm," explained Rech when discussing the construction of intellectual property. Companies get into trouble when the language isn't structured correctly. He also noted that today farmers have to do more with less; they need more product with less volume and this can be tricky.
When asked why education is so important Grech said, "A lot of good inventions go sideways because companies don't do a good job of educating people about their product. Farmers need to know what it does, how to use it and what the benefits are."
One example of a successful pathway from LANL to the field is the company's Take-Off product. Grech explained it is formulated in such as way it can be used with multiple applications and this makes the product unique. I learned that there will be a new generation of Take-Off announced in the next couple of weeks so watch out for this.
To learn more about the partnership as well as about Take-Off listen to my interview with Nigel Grech: [wpaudio url="http://www.zimmcomm.biz/Verdesian/Verdesian-grech-14.mp3″ text="Interview with Nigel Grech, Verdesian"]