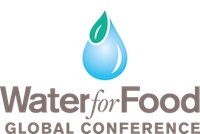 Mobilizing new data gathering capabilities to improve global water and food security is the subject of the sixth annual Water for Food Global Conference, hosted by the Robert B. Daugherty Water for Food Institute at the University of Nebraska in association with the Bill & Melinda Gates Foundation Oct. 19-22 in Seattle, Wash.
This year's conference theme, "Harnessing the Data Revolution: Ensuring Water and Food Security from Field to Global Scales," will provide a forum for global experts and policy leaders to discuss ways to effectively manage and use data-gathering technology to conserve water and improve crop yields for farming systems, large and small, around the world.
"I think everyone's aware that with impending climate variability and growth of the population, we're going to need to manage water resources better than we're doing now," said Dr. Christopher Neale, Director of Research for the Robert B. Daugherty Water for Food Institute. "Using spatial technologies – like satellite imagery, sensors, variable rate irrigation systems, high tech drip irrigation systems, center pivot irrigation systems – are ways of being more efficient in applying the water."
[wpaudio url="http://www.zimmcomm.biz/precision/wffc-neale.mp3″ text="Interview with Christopher Neale, Water for Food Institute"]
Presentations and panel discussions will cover a range of topics, including the data needs of smallholder farmers, using climate data to improve decision-making, water's effect on public health, and the policy and economic implications of water metering.
More information about the conference, including how to register, can be found here.