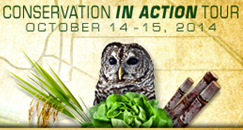 If you have ever wanted to see the Florida Everglades up close and personal – here is your chance.
The Conservation Technology and Information Center's 2014 Conservation in Action Tour is exploring the Everglades Agricultural Area (EAA) October 14-15 to hear the tale of farmers working with the entire ecosystem in mind.
CTIC executive director Karen Scanlon says the tour will showcase innovative ideas and emerging technologies in conservation by farmers who grow very different crops than in the Midwest. "We're going to be visiting vegetable farms and sugarcane, as well as rice growing regions," said Scanlon. "It's a very important region for agriculture and the conservation practices they're working on."
Scanlon says the region had a regulatory goal of reducing phosphorus by 25%. "And in the years farmers have been working on this best management practice program, they've achieved an average of 54% reduction, so they're far surpassing the goal that was set for them," she said.
Listen to more of what the tour has to offer in this interview: [wpaudio url="http://www.zimmcomm.biz/ctic/ctic-everglades.mp3″ text="Interview with Karen Scanlon, CTIC"]
Farmers, agricultural retailers, members of agricultural and conservation organizations, government agency representatives, legislators, researchers, members of the media and anyone who wants to learn more about conservation in the Everglades is welcome to attend. Registration information is available here.