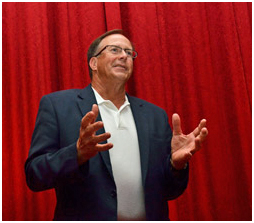 The North Dakota Wheat Commission is one of the sponsors of the documentary "The Great American Wheat Harvest" which had a special showing in Bismark last month, and they seemed pretty pleased with the outcome.
"It's primarily focused on the harvest element," said NDWC administrator Neal Fisher after watching the finished product. "(But) there's a very human, family element in it and they all refer to how they're helping to feed their fellow man."
Fisher thinks the film will be a great educational tool for schools and just the average person. "It's entertaining and it has that family element … and I think that will be appealing to a good segment of the population," he said. [wpaudio url="http://www.zimmcomm.biz/new-holland/nh-harvest-14-fischer.mp3″ text="Interview with Neal Fisher, ND Wheat Commission"]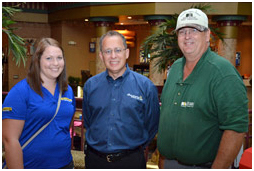 Jim Bahm, a NDWC member and farmer from just west of Bismark, is pictured here at the film showing with producer/director Conrad Weaver and Rebecca Gunderson of New Holland, which is also one of the movie sponsors.
He was very excited to finally get to see the movie and was also very impressed by the family element and thinks that is one of the main takeaways. "It's not just a business, it's family," said Bahm.
[wpaudio url="http://www.zimmcomm.biz/new-holland/nh-harvest-14-jim.mp3″ text="Interview with Jim Bahm, ND wheat farmer"]