Agricultural data analytics company aWhere has raised $7 million with the help of Elixir Capital and AgFunder, an online investment company. The investment will help aWhere bring its data analytics platform to international markets and help farmers increase yields and profitability as they incorporate cutting-edge technology into their growing operations.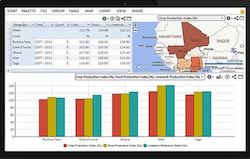 "aWhere's big data platform brings tremendous value across the agricultural value chain," said John Corbett Ph.D., President and CEO of aWhere. "To the world's 570 million farmers, we offer access to down-scaled, localized weather driven content. These data then aggregated over trade areas and across the value chain provide insight from corporate planning to food security and policy."
Corbett notes that with the unknowns of how climate change will affect agriculture, investor interest in data collection has soared. aWhere is meeting this need through various tools that provide field-level, actionable data such as weather and climate information, agronomic recommendations, pest and disease alerts, and other information that can make the practice of farming more efficient. aWhere's data is tailored to the location and needs of the individual farmer and has significantly increased yields for rice, soybean and maize. The company is targeting rice and palm oil crops as it expands into Southeast Asia.

"Our investment in aWhere highlights how we seek to apply technology innovations to underserved markets. Outside of North America and parts of Western Europe, the application of big data analytics to agriculture is almost unknown. aWhere's entry into Asia allows one of the largest agricultural production regions in the world to take advantage of the power of data analytics to increase yield, efficiently allocate resources and significantly lower the industry's environmental impact." said Abrar Hussain, Managing Director of Elixir Capital. "AgFunder was an important partner — although there are numerous crowdfunding sites which focus on small investments from individual contributors, AgFunder's platform proved itself to be an excellent source for institutional investors like Elixir to find growth-stage investment opportunities."
Rob Leclerc, CEO of AgFunder noted that the deal demonstrates how an online investment marketplace and can investor identify new opportunities while bridging geographical boundaries.