American's Food Drive is taking place again this year during Husker Harvest Days from Tuesday, September 9, 2014 through Thursday, September 11, 2014 in Grand Island, Nebraska. During this year's show, the attendees will have the opportunity to fight hunger in Nebraska. Organizers of the food drive will be accepting nonperishable food donations and will be donated to local hunger organizations. The food drive is sponsored by Monsanto in conjunction with Farm Progress and will benefit Heartland United Way.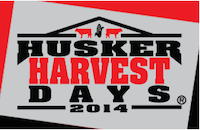 "In order for children and families to thrive and do their best every day, they need reliable and nutritious food," said Karen Rathke, president of Heartland United Way in Grand Island. "There are 9,270 people in our four-county area that are completely food-insecure, uncertain where their next meal is coming from — and almost half of those individuals are children. That's why our food pantries, shelters, backpack programs and places that serve community meals need food to support individuals and families."
FFA chapters and 4-H clubs have special incentives to participate in the food drive. Members from these two organizations will receive free admission with a donation of five nonperishable food items per student. The top three FFA chapters and top three 4-H clubs that bring in donations of more than 100 pounds of food will each be awarded $250 from Monsanto. Donations will be accepted at the main bus entrance and Main Street flag entrance of the show.
"Although America's farmers work day in and day out to feed the growing population, there are still nearly a billion people who go to bed hungry each night," added Howard G. Buffett, HGBF president. "The America's Farmers Food Drive is an opportunity for farmers, community members and ag youth to help feed their families, friends and neighbors."
Statistics show 15.5 percent of rural homes are in need of nutritional assistance. For every pound of food collected, Monsanto will donate $1 (up to $10,000) to the Heartland United Way. The Howard G. Buffett Foundation is also committed to matching that donation with $1 (up to $10,000) to the non-profit Feeding America.