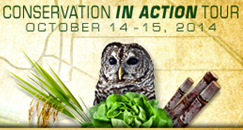 The Conservation Technology Information Center has extended the early-bird registration deadline for the upcoming Everglades Conservation in Action Tour with discounts available now until September 12.
The tour will take place October 14-15 and provide an in-depth look at the unique story of the approximately 700,000-acre Everglades Agricultural Area (EAA), which is located south of Lake Okeechobee in Florida. Lettuce, sugar cane and owls will be just a few of the crops and creatures to be seen on the tour which will feature EAA's conservation practices. erosion control and nutrient management.
Richard Budell, director of the Office of Agricultural Water Policy for the Florida Department of Agriculture and Consumer Services, will be the featured lunch speaker. He oversees state programs that promote agricultural best management practices addressing water quality and conservation.
Early registration is just $75 for CTIC members and $100 for non-members, $25 for producers, media, federal/state employees and students. Hope you will join us!