A changing of the guard at GROWMARK, Inc. is happening this month and both incoming and retiring CEOs took the stage at the cooperative's annual meeting in Chicago last week.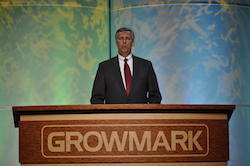 GROWMARKJeff Solberg is retiring from GROWMARK after 38 years in a variety of leadership positions, including Senior Vice President, Finance, Vice President, Finance, and Treasurer. He was named CEO in November 2010 and assumed the CEO duties in January 2011.
"My goal was to always become the Chief Financial Officer for GROWMARK," said Solberg at the GROWMARK annual meeting in Chicago today. "I never imagined that I'd be given the opportunity to be the CEO. I was lucky enough to pick the right place to work the first time. I never wanted to work anywhere else."
Listen to my interview with Jeff here: [wpaudio url="http://www.zimmcomm.biz/growmark/gmk-14-solberg.mp3″ text="Interview with Jeff Solberg, Retiring CEO GROWMARK"]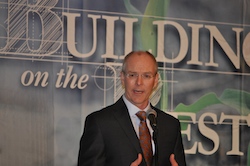 Replacing Solberg as of September 15 is Jim Spradlin, who most recently held the title of vice president of agronomy for GROWMARK.
Spradlin has a degree in business administration and economics from Illinois College and has held various positions within the GROWMARK System of cooperatives over the past 32 years, including controller of Schuyler-Brown FS, regional administrative director, general manager of Piatt Service Company, general manager of Ag-Land FS, energy division manager, and agronomy division manager. Mark Orr was recently named to replace Spradlin as Vice President of Agronomy.
You can listen to my interview with Jim here: [wpaudio url="http://www.zimmcomm.biz/growmark/gmk-14-spradlin.mp3″ text="Interview with Jim Spradlin, CEO-elect GROWMARK"]