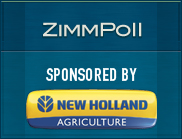 Our latest ZimmPoll asked the question, "What's the most important skill set for ag communications?"
The tried and true skill of writing still tops the charts when it comes to agriculture communications even though the industry has changed so much over recent years. But the importance of a well-rounded graduate is always the end goal. Not surprisingly, people skills comes in as a heavy second. All skills needed in any career and in any industry.
Here are the poll results:
Writing/editing – 29%
Graphic design – 0%
Photography – 0%
Social media/blogging – 0%
Verbal communications – 8%
People skills – 21%
All of the above – 29%
Other – 13%
Our new ZimmPoll is now live and asks the question, How do you think commodity prices are impacting farm equipment sales?
We are in the heat of the 2014 Farm Progress Show so we thought we would talk farm equipment. Are you staying optimistic saying good crops will equal good sales? Or are you guessing the downward trend will continue?