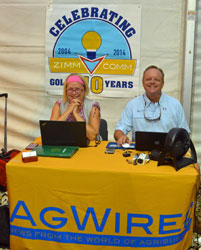 The 2014 Farm Progress Show is underway in Boone, Iowa and the weather has cleared but the grounds are still a little muddy.
The ZimmComm team thankful for the air-conditioned BASF Media Tent which is humming with activity from press conferences, to interviews, to broadcasters doing live reports. Happy to be both cool and dry inside!
If you want to watch the activity at the show from a distance, the FPS this year features live webcams sponsored by Raven. There are five different cameras featuring different views of the show, so tune in and see what you can see.
Stay tuned for our coverage here on site at the 2014 Farm Progress Show, thanks to our wonderful sponsors.