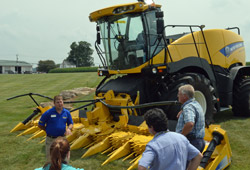 Here is one serious looking machine. Looking at the New Holland FR Self-Propelled Forage Harvester from the business end it looks like it's ready to chomp through just about anything you can imagine. During the New Holland Media Day Doug Otto did a walk around for us to explain what's new in this model.

New Holland has been at the forefront of the forage harvesting world since it introduced its first Self-Propelled Forage Harvester in 1961. The new FR Forage Cruiser line follows in its predecessor's footsteps by showcasing more than 50 years of innovations. Decorated for its performance, the FR Forage Harvester has received numerous awards for its developments including gold medals for its advanced precision farming technology and a Machine of the Year award from Agritechnica.
These units feature the largest crop channel and cutting components of any forage harvester to date. The only thing that will stop an FR Forage Harvester is the end of the field. The FR can cut in a variety of different conditions and have the ability to process up to twelve rows of corn at the time. We invite you to take a look around at all that the FR Forage Cruiser has to offer. We think you will be pleasantly surprised. We know our customers are.
For those of you who are looking for precision options in all your new machinery this one has plenty for you to consider. Watch Doug explain more.