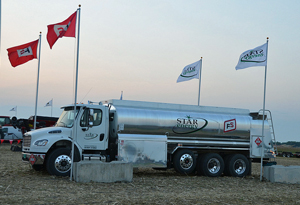 It takes a lot of energy to power the annual Farm Progress Show and that's where GROWMARK FS STAR Energy shines.
Retail fuel manager Jason Stauffer, who we talked with at the 2010 Farm Progress Show in Iowa, says it takes them awhile to prepare for the event. "It starts about the second or third week in July," he said. "We offer both the gasoline and the diesel fuel, which is our premium Dieselex Gold, during the construction of the Farm Progress Show, during the show, and then during the tear down part of it." Which adds up to about eight weeks total.
How much fuel they use actually depends on the field demonstrations, which you might recall were cancelled last year in Illinois and a few years ago in Iowa. "You have a good show where we're able to do field demonstrations, consumption can be in excess of 16-18,000 gallons," said Stauffer. No demos cuts that total about in half.
Attendees at the show this year will be able to learn more about STAR Energy. "We've expanded our booth… to show the public what really STAR and the FS companies are about here in Iowa," he said. "We're bringing the energy games aboard which allows us to use technology to interact with different energy lubricants and fuels that we provide." They are also bringing in the fuel trailer to demonstrate the system they're using to power the show.
The FS STAR Energy exhibit will be located on lot 1302 this year, featuring digital farm games and a Nitrogen Management display with representatives from Iowa's Water Quality Initiative on site.
Learn more about STAR Energy and what they will be doing at Farm Progress Show here: [wpaudio url="http://www.zimmcomm.biz/growmark/growmark-starenergy-fps14.mp3″ text="Jason Stauffer interview"]