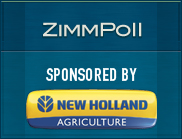 Our latest ZimmPoll asked the question, "I prefer to get my farm news from:"
I am sure many of the younger generation feel real magazines and radio are a little out dated, but it is clear that they still serve a purpose when it comes to getting news that is relevant to our industry. Computers seem to easily take the the lead when it comes to a resource for farm news. Do you think we will see the day when computers seem dated? I might still be considered the 'younger generation' but I would rather listen to the radio any day.
Here are the poll results:
Magazine – 14%
Mobile Phone – 24%
Radio – 15%
Tablet – 10%
Computer – 34%
Other – 3%
Our new ZimmPoll is now live and asks the question, What's your favorite way to eat peanut butter?
Peanut butter is quite diverse making it a staple in many households. I personally prefer a peanut butter cookie over anything else. Chuck and Cindy have covered the Southern Peanut Growers Conference for seven years. The three-day event provides farmers an opportunity to learn more about the industry and important issues. You can check out photos and audio from this years event here.