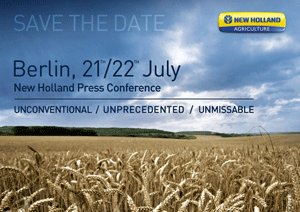 It looks like New Holland will be live tweeting a press conference today in Berlin, Germany. The graphic says it will be Unconventional / Unprecedented / Unmissable.
Here's their latest tweet with hashtags. If I calculate right it will start at 11:30am central time.

Live Tweet of our Press Conference #EnteraNewHarvestingdimension starting at 6.30 pm (GMT+2) today! Don't miss it! #NHharvest2014

We'll all know more then.