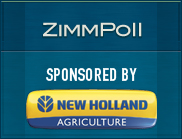 Our latest ZimmPoll asked the question, "How would the EPA water rule impact you?"
This is one of the hottest topics in the ag sector these days with a lot of uncertainty about what the future holds, especially when you see states starting to fine people for "wasteful use of water." On the federal level the EPA says that under the proposed rules defining Waters of the United States (WOTUS) under the Clean Water Act (CWA) "all normal farming practices are exempt – period" but those in the agriculture community are questioning if that will hold true. Hopefully you've looked at how this will impact your farm or customers?
here are the poll results:
Just more govt. regulation – 38.9%
Permits for routine activities – 16.67%
Will regulate more of my property – 18.67%
Not sure but worried about it – 11.1%
Not worried about it – 11.1%
Don't know or don't care – 5.56%
Our new ZimmPoll is now live and asks the question, What are your thoughts on cellulosic ethanol? We just saw the first commercial production of cellulosic ethanol in Iowa from team work between Syngenta's Enogen and the Quad County Corn Processors. Let us know what you think.