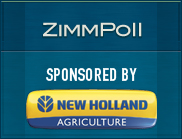 Our latest ZimmPoll asked the question, "Where are you in #hay14?"
It looks like farmers across the United States are all at different stages with this year's hay crop. On our farm we started out with a bang. But were soon falling behind due to rain. No one is complaining about the rain though. I think I can easily speak for all involved in agriculture that we are very glad to be getting these early summer showers. Good luck to all those still in the heat of #hay14.
Our poll results:
Done – 25%
Right on schedule – 12.5%
Behind due to rain – 62.5%
Behind due to equipment – 0%
Our new ZimmPoll is now live and asks the question, "What will be on your Independence Day grill?"
The 4th of July typically equals family and friends gathering for a barbecue and barbecue's equals meat. The choices for your grill are limitless. Will you be having the traditional meal of hamburgers and hot dogs? Or will you be showing off your culinary genius and serving Venison Osso Buco, Beer Grilled Chops or Thai Grilled Shrimp?