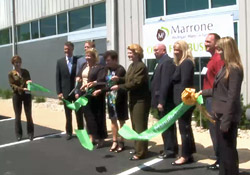 Marrone Bio Innovations, a leading global provider of bio-based pest management and plant health products, celebrated the official opening of its Marrone Michigan Manufacturing (M3) facility Wednesday with a ribbon cutting ceremony featuring Senator Debbie Stabenow (D-MI).
"We know how to grow things and make things, so it's no surprise that MBI chose to invest right here in Michigan," said Stabenow, who chairs the Senate Agriculture Committee. "It's exciting to be back at MBI and see new biobased products being manufactured that are supporting new jobs, helping our farmers and protecting our Great Lakes."
USDA Administrator Rural Business-Cooperative Service Lillian Salerno highlighted the approval of a $10 million loan guarantee to support the M3 expansion in Bangor, Michigan. "Bio-manufacturing facilities like the M3 plant opening we are celebrating today are instrumental to bringing high-quality, good-paying jobs to rural communities," said Salerno.
MBI CEO, Dr. Pamela Marrone, thanked Stabenow, USDA, state and local officials for helping to make the M3 plant a reality. "With today's official opening of M3, Southwest Michigan is positioned at the forefront of a growing global movement to firmly establish biologically based technologies as the foundation in agriculture, turf, ornamental and water treatment markets," Marrone added.
[wpaudio url="http://www.zimmcomm.biz/marrone/marrone-bio-ribbon-cutting.mp3″ text="Marrone Michigan Manufacturing Ribbon Cutting Ceremony"]