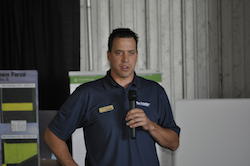 Ag Leader Technology is out in the fields this summer bringing the latest precision technology to Illinois farms in the Technology Meets Dirt Road Tour. Three events were held this week and two more scheduled after the July 4th holiday where you can learn how the latest technology can help you manage seed, fertilizer, water and data.
Michael Vos, dealer development manager for Ag Leader Technology, encourages growers to come out and get their hands on the equipment during the field demonstrations after they hear some about it from the experts. "The Technology Meets Dirt Road Tour is all about educating and demonstrating," Michael says. "We're taking the tile plow, the OptRx sensors on Hagie sprayers, the Seed Command products with Hydraulic Down Force clutches out into the field and demonstrating them." [wpaudio url="http://www.zimmcomm.biz/agleader/techmeetsdirt-14-agleader-vos.mp3″ text="Interview with Michael Vos, AgLeader Technology"]
Find out more about the tour at TechMeetsDirt.com – the July dates are listed below. If it's not your part of the country, or if you can't make it, don't worry. We will have posts coming up on what they had to offer.
July 8th – 10-98 Industrial Park Rd Benton, IL 62812
July 10th – 1368 County Rd 11 Thomasboro, IL 61878