BASF Ag Products is planning what is expected to be the largest training effort in the company's history for this summer, reaching 24 states and focusing on weed management, application best practices and overall stewardship of BASF herbicides.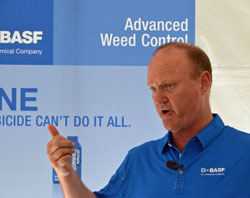 "We are committed to ensuring growers' success with new technologies," said Luke Bozeman, Technical Market Manager, Herbicides, BASF. "The more knowledgeable growers are about precise stewardship practices, the more successful they will be in their applications."
The educational training and plot tour series will include an introduction to BASF's Engenia™ herbicide, which is expected to be registered for use next year. The series will provide information about best practices for stewardship of future Engenia herbicide applications in dicamba-tolerant (DT) crops.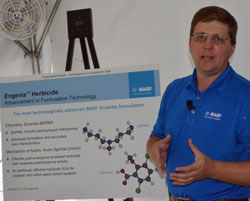 At many of the summer training events, attendees will also have the chance to participate in the On Target Application Academy, a BASF spray application training led by industry professionals which has reached more than 4,000 growers in 21 states since it was started in 2012, This training is focused on proper application techniques – including the importance of boom height, weed size, nozzles and equipment cleanout – and their impact on the desired application.
The summer training series will be held in 24 states across the country, with the largest training events occurring at BASF research farms in Story City, Iowa; Pine Level, North Carolina; Beaver Crossing, Nebraska; and Seymour, Illinois. To participate in a training event in your area, contact your local authorized BASF retailer, your BASF Innovation Specialist or visit the On Target Application Academy website for more information.
At the BASF Ag Media event last week I visited with both Luke Bozeman and BASF herbicide group agricultural biologist John Frihauf about some of the what farmers will learn during these summer field days.
Bozeman (pictured top right) talks about the On-Target Academy and the importance of targeted application with dicamba formulations. [wpaudio url="http://www.zimmcomm.biz/basf/basf-media-14-bozeman.mp3″ text="Interview with Luke Bozeman, BASF"]
Frihauf (above left) discusses the status of Engenia and the importance of developing new herbicides to fight weed resistance. [wpaudio url="http://www.zimmcomm.biz/basf/basf-media-14-frihauf.mp3″ text="Interview with John Frihauf, BASF"]