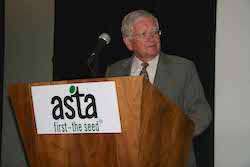 Two World Food Prize winners shared their insights and experiences during a general session at the 131st American Seed Trade Association's Annual Convention. Each shared what the seed trade industry can do to help feed the growing global population while sitting on a panel and taking questions from attendees.
Professor Emeritus of Food Science at Purdue University, Dr. Phillip Nelson, was the World Food Prize Laureate in 2007 for his work with aseptic bulk storage, which simply means 'bag in a box.' This has impacted the distribution of fruit concentrates in over 135 countries.
Dr. Nelson believes the seed trade industry can make sure that what is being produced in those developing countries is being preserved and not lost. He says we need to work with them in not only producing more, but producing a higher quality product.
When asked about what keeps him optimistic about the future, Dr. Nelson replied with the amount of young people who are passionate about the industry. He feels education is the key. Grants will provide funding to bring students from developing countries to U.S. labs and get them excited about what can be done and then take it back to there home countries and put it to work.
Listen to my interview with Dr. Nelson and his complete remarks here: [wpaudio url="http://www.zimmcomm.biz/asta/asta-14-nelson.mp3″ text="Interview with Dr. Phillip Nelson"] [wpaudio url="http://www.zimmcomm.biz/asta/asta-14-nelson-remarks.mp3″ text="Remarks from Dr. Phillip Nelson"]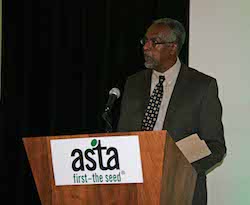 World Food Prize Laureate, Dr. Gebisa Ejeta's development of drought tolerant and parasitic weed resistant sorghum has made him a celebrity in his home country of Ethiopia. He currently serves as the Director of the Purdue Center for Global Food Security and Professor of Plant Breeding & Genetics at Purdue University.
Dr. Ejeta also believes higher education is imperative. He says of all the things that we can do for those that don't have much, building the educational opportunities should be on the top of our lists.
Public and private partnerships are another key element Dr. Ejeta believes needs to take place creating a win-win opportunity for both sides of the table. He says the seed industry can do a lot by expanding the market base and sharing knowledge and experiences.
Listen to my interview with Dr. Ejeta and his complete remarks here: [wpaudio url="http://www.zimmcomm.biz/asta/asta-14-ejeta.mp3″ text="Interview with Dr. Gebisa Ejeta"] [wpaudio url="http://www.zimmcomm.biz/asta/asta-14-ejeta-remarks.mp3″ text="Remarks from Dr. Gebisa Ejeta"]