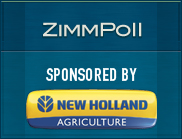 Our latest ZimmPoll asked the question, "Can organic & GMO crops co-exist?"
It's clear everyone has their own opinion on this topic. And it's important that farmers are able to voice their opinions and farm the way they see fit. Many pollers believe that organic and GMO crops can live harmoniously on the same or neighboring farms. But cross pollination is still a fear of many. Believe what you want, but let's not put farmers against farmers.
Our poll results:
Yes – without legal regulation – 25%
Yes – with legal regulation – 7%
Yes – farmers choice to grow – 26%
No – due to cross pollination – 30%
No – it's one or the other – 3%
Don't know – 3%
Don't care – 2%
Other – 4%
Our new ZimmPoll is now live and asks the question, "What do you think about the new AgWired look?"
As you can tell the ZimmComm Team has been busy changing things up a bit. Don't worry, we are still covering everything agriculture. AgWired.com has just undergone a complete transformation on the back end and now incorporates WorldDairyDiary.com as Animal.AgWired.com and PrecisionPays.com as Precision.AgWired.com. And new features including a built in mobile app that you create on your device when you browse to AgWired.com.