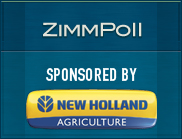 Our latest ZimmPoll asked the question, "What features of MyNewHolland.com do you like?"
It's been just over a month since the launch of New Holland North America's MyNewHolland.com, an online destination for all things New Holland and open to all farmers. The ability to keep up with equipment inventory seems to be a highlight for those who have taken advantage of this opportunity. Whether you own New Holland equipment, used to own or would like to own, or who just want to join the farming conversation, it's free and easy to sign up. Over 500 people from all over North America have already joined for a variety of reasons, including the spotlight discussion on growing crops for biofuels.
Our poll results:
My Equipment – my equip inventory – 18%
Precision Land Management – 6%
Configurator – configure your equipment – 6%
Calendar – 6%
Spotlight Discussion – 12%
Dealer locator – 12%
Links to other New Holland info – 6%
I have created a login – 6%
I have not created a login – 23%
Other – 5%
Our new ZimmPoll is now live and asks the question, "Can organic & GMO crops co-exist?"
A recent ban on the cultivation of genetically engineered crops has passed in two Oregon counties. This is one of many issues that puts farmer vs. farmer. Should it be the landowner's choice or should these decisions be made at the ballot box? In this week's ZimmPoll we want to know if you think organic and GMO crops can co-exist?