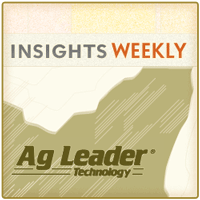 It seems like every year it gets harder and harder to meet up with the consultant to grab your planting or seeding prescriptions; or if they do make it into our hands, the USB seems to get forgotten on the kitchen table.
The good news is, with the AgFiniti cloud platform, access to your valuable prescription and setup files is easier than ever! Instead of running into town to grab your files, or waiting for your consultant to get them to you, simply transfer them wirelessly, directly from the field!
AgFiniti took a unique approach in terms of wireless connectivity, Ag Leader provides the platform, and allows you to use the wireless connection that works best for you! Many already have a wireless solution that will work with AgFiniti. If you have a smart phone or tablet with a cellular data plan, you may have a device that is capable of becoming a "personal hotspot". These devices can turn their cellular data connection into a Wi-Fi signal for other devices to connect to. Or, if your operation has a wireless network that's accessible from the field, office, or shop, you can easily connect your Ag Leader display's to your AgFiniti account without having to utilize cellular data at all.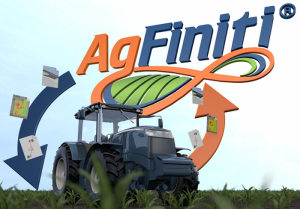 Connect your Ag Leader display to your secure AgFiniti account to access prescriptions, guidance lines and display setup files without having to keep track of a USB! As the season progresses, wirelessly send your as-applied data back to your office or to your trusted advisor, without the hassle of managing multiple USB's and spending valuable time transferring field data, making data management quick and easy.
Once your files are securely stored within your AgFiniti account, your options for managing the data are nearly endless. AgFiniti gives you fast, easy access to your files anywhere in the field by allowing you to wirelessly transfer your data to your Ag Leader display or SMS software, creating hassle free data management. After your data is moved to your SMS software, you can print your own maps/reports and analyze your data to make management decisions that make your operation more profitable. Learn more about how SMS Software can help your operation. Don't use SMS? No problem! AgFiniti can still be used to securely store and share your data with your trusted advisors, so they can manage your maps and data for you.
Data management isn't the only thing AgFiniti is capable of; with AgFiniti's Remote Support feature, you can view your displays right from your office! Or have your local Ag Leader dealer view your display remotely for fast and efficient service.
Check back in the upcoming weeks to learn about AgFiniti's take on data ownership.
You can learn more about AgFiniti by clicking here, or call Ag Leader at 515-232-5363.
Become a fan of Ag Leader on Facebook today, and get the latest precision ag videos on the YouTube channel. For more information about Ag Leader products and services, or to visit the blog site, go to www.agleader.com.