If you have questions about how the new farm bill works, American Farm Bureau has answers.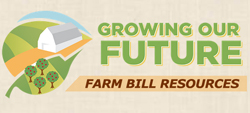 The American Farm Bureau Federation has produced a new series of videos and launched a website to help farmers, landowners and other stakeholders better understand the provisions of the 2014 farm bill.
"We have distilled down a massive and complex piece of legislation – the 2014 farm bill – into several 'bite-size' pieces, with the goal of helping farmers and managers understand how it will affect their farms," said John Anderson, deputy chief economist with AFBF.
The videos include a farm bill overview describing the basic provisions of the commodity title, including a description of the decisions related to program participation that will need to be made by farmers and landowners. Four other videos go in-depth on the Price Loss Coverage and Supplemental Coverage Option, the Agricultural Risk Coverage Program, the Stacked Income Protection Program for Cotton and the Dairy Margin Protection Program.

Check it out here.