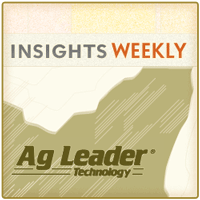 Al Myers, Ag Leader CEO, says:
Return on investment. On Wall Street, it's a measure of the amount of money earned on the (hopefully) sound investments made. It's easy to measure – even on a daily basis – as stock and bond prices are available by the minute.

Return on investment in agriculture isn't always quite as easy to calculate. What is the return on your investment of a new tractor? A different hybrid? An additional 200 acres of land?

Without more information, these are impossible to calculate.

Ag Leader products are designed for two things: 1) To help provide the data you need to make decisions that maximize your return on investment; and 2) To make it easier to control the things that maximize your investment.

Best of all, while others are using tools and data to learn more about you and your operation for marketing purposes, we've taken a different approach. We want any investment you make in precision products to be 100 percent to YOUR benefit … not somebody else's. So Ag Leader continues to invest in research and development of more great tools that work with the equipment and practices of our customers. We've found that's where we get our best return on investment.
You can view the full issue of the Spring 2014 Insights magazine here.
Those interested in signing up for a free subscription to Insights magazine are encouraged to visit: www.agleader.com/subscription. The Ag Leader team will be on the constant lookout for interesting story angles, profile subjects and precision farming information, so please email your story tips to Info@agleader.com, subject line: Insights Tip.
Become a fan of Ag Leader on Facebook today, and get the latest precision ag videos on the YouTube channel. For more information about Ag Leader products and services, or to visit the blog site, go to www.agleader.com.