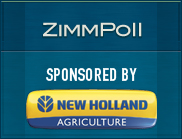 Our latest ZimmPoll asked the question, "Is corn planting underway in your area?"
I don't believe I'm overstating when I say we are all seeing a late spring. After an unusually cold winter, it's not surprising that it lingered longer then welcome. Our poll held true to this with few in the full swing of planting. Most have just started or are waiting for the ground to cooperate.
Our poll results:
Full swing – 12%
Not yet – 20%
Just started -33%
Ground not ready – 33%
Other – 2%
Our new ZimmPoll is now live and asks the question, "What is the MOST important part of sustainability?"
Sustainability is the number one buzzword for all industries these days, especially agriculture, but the definition of the word varies. In general, it means the ability of a process or action to continue indefinitely without draining significant resources. Those resources can include everything from soil and water to inputs and labor. What do you think is most important to the long term sustainability of global agriculture?