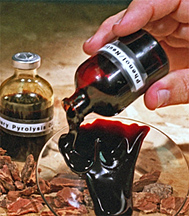 U.S.Department of Agriculture (USDA) researchers are getting closer to developing a system that will help farmers make their own energy on the farm or produce biofuels for commercial purposes. This article from the USDA's Agricultural Research Service (ARS) says scientists have found a way to simplify the pyrolysis processes for bio-oil.
These findings by ARS scientists Charles Mullen and Akwasi Boateng promote the USDA priority of finding new bioenergy sources.
Fast pyrolysis is the process of rapidly heating biomass from wood, plants and other carbon-based materials at high temperatures without oxygen. Using pyrolysis to break down tough feedstocks produces three things: biochar, a gas, and bio-oils that are refined to make "green" gasoline.
The bio-oils are high in oxygen, making them acidic and unstable, but the oxygen can be removed by adding catalysts during pyrolysis. Although this adds to production costs and complicates the process, the resulting bio-oil is more suitable for use in existing energy infrastructure systems as a "drop-in" transportation fuel that can be used as a substitute for conventional fuels.
The article goes on to point out that bio-oils made from oak and switchgrass by the new process had considerably higher energy content than those produced by conventional fast pyrolysis. Oak bio-oil's energy content was about one-third higher and contained about two-thirds of the energy contained in gasoline. Switchgrass did even better with an energy content that was 42 percent higher, slightly less than three-fourths of the energy content of gasoline.