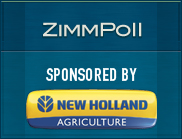 Our latest ZimmPoll asked the question, "What's your favorite use for Easter eggs?"
Deviled eggs is a clear winner in last week's ZimmPoll. Personally, it is my favorite way to eat boiled eggs too. This Easter I was reminded of my husband's family tradition of egg tapping. Each person takes a dyed boiled egg and taps the pointed end of their egg with that of another person. The last person left with an egg that is still in tact is the winner. When there is a couple dozen kids running around, this keeps them occupied for awhile. The catch is if you want to play you had better like hard boiled eggs, because when you loose you must eat it.
Our poll results:
egg salad – 16%
deviled eggs – 37%
unpeeled & plain -21%
special recipes – 5%
not a boiled egg fan – 8%
only use plastic – 5%
for hunts – 8%
Our new ZimmPoll is now live and asks the question, "Is corn planting underway in your area?"
Farmers across the country are busy in the fields. For some, planting is well underway. For others Mother Nature hasn't quite cooperated. Let us know where you are in your corn planting.