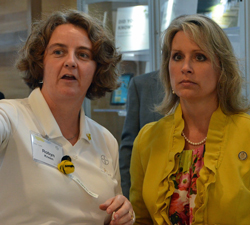 Even though she had to miss the grand opening ceremony due to a conflict, Rep. Renee Ellmers (R-NC) made it a point to make it out to see the new Bayer CropScience North American Bee Care Center in Research Triangle Park.
"The research and development that they are doing here is going to help us grow more food into the future," she said in an interview. "It is vital to the North Carolina economy but also to the world."
Ellmers added that bees are an important part of the discussion about genetically modified crops. "It's a discussion that's being had on the national level," said Ellmers. She is pictured here at the Bee Care Center with Bayer's Robyn Kneen who was instrumental in the development of the center.
I also asked the Congresswoman about the new farm bill and why she is a strong supporter of immigration reform for farmers in her state. [wpaudio url="http://zimmcomm.biz/bayer/bayer-bee-14-ellmers.MP3″ text="Interview with Rep. Renee Ellmers"]