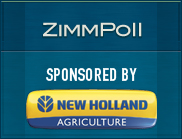 Our latest ZimmPoll asked the question, "Do you think farm movies can help the public image of agriculture?"
It looks like the majority polled believe these farm movies can play a positive role in improving the agricultural industries image. Getting people to theaters to watch them might be tricky, but the old fashioned word-of-mouth advertising could be the ticket. I, personally, am eager to watch them and share with friends and family.
Our poll results:
Definitely – 38%
Maybe – 27%
No – 11%
Not sure – 4%
Can't hurt – 15%
Other – 5%
Our new ZimmPoll is now live and asks the question, "What's the largest percentage of your 2014 marketing budget?"
Next week is the annual Agri-Marketing Conference in Jacksonville, FL. Agribusiness/agency/media and more will be networking and participating in professional development activities. We're pretty sure this question will be a part of the conversation.