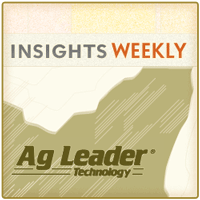 At the 2014 Commodity Classic, Ag Leader Technology sponsored a learning session focused on using crop sensors to find out what your crops need.
Ag Leader did a study in 2009 that showed the advantages of using their OptRx crop sensor technology. OptRx Crop Sensor Product Specialist Chad Fick says this product has been around for six years now and growers are showing more interest as nutrient management becomes a bigger concern.
Chad says OptRx can be a helpful tool for farmers. Listen to Cindy Zimmerman's interview with Chad from Commodity Classic.
[wpaudio url="http://precision.agwired.com/wp-content/uploads/sites/3/2014/03/classic14-agleader-chad.mp3″ text="Listen to Fick explain"]
Become a fan of Ag Leader on Facebook today, and get the latest precision ag videos on the YouTube channel. For more information about Ag Leader products and services, or to visit the blog site, go to www.agleader.com.