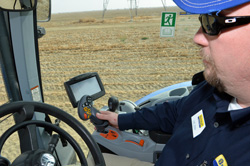 My first lesson during the New Holland Operation Blue Force field training event I attended last week in California focused on the New Holland Auto Command CVT transmission. Before I got into a tractor in the field I got a lesson from Nick Graham.

The Auto Command™ Continuously Variable Transmission (CVT) makes it easy to find the perfect speed for each job because your choice of speeds is infinite. You accelerate from zero to maximum speed smoothly, without multiple steps. And, with no clutching, the shuttle shifting is the smoothest you'll find, making the Auto Command transmission ideal for loader work.

After class I got into a T7 210 tractor. My teacher was Luke Zerby. He says this tractor is perfect for hay and forage work. Luke talked me through the control stick which is mounted on a Sidewinder II comfy armrest. The controls allow you to preset three different speeds to switch between easily. There is also an Integrated Control Panel which allows for even more pre-set options and finer tuning those settings. This allows you to maximize engine efficiency.
Go to class with Nick in this video:
Or just listen to Nick here: [wpaudio url="http://zimmcomm.biz/new-holland/nh-blue-force-14-graham.mp3″ text="Nick Graham Lesson"]
Ride along with me via ZimmGlass (my Google Glass) to learn more about what this feature offers: